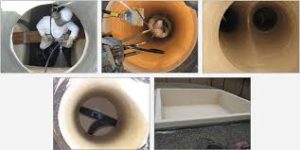 Product Description:
Sancon 100 is a two stage protective coating system, which uses a moisture tolerant 100% solids epoxy base coat and a 100% solids high build polyurethane elastomer top coat. The resulting system provides the adhesion of epoxy and the flexibility of polyurethane.
Designed to spray on new and existing concrete and steel surfaces, Sancon 100 has been used extensively to repair and protect structures from the corrosive environment found in wastewater structures and facilities. After surfaces are cleaned via water blasting and/ or sandblasting, Sancon 100 is spray applied from 60 to 125 mils thickness depending on substrates and service. This product is warrantied for 5 years. (Contact Sancon for warranty related inquiries and complete warranty details)
Applications:
Man-entry sized concrete sanitary sewer structures including manholes, overflow storage tanks, digesters, wet wells, sedimentary tanks, clarifiers, etc.
Standards: Greenbook 500-2.7, Whitebook 500-2.4, ASTM's: D638, D4060, D2240, D624