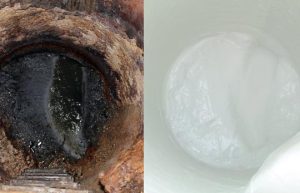 Product Description:
Altliner CIPM Lining System is a cured-in-place epoxy fiberglass composite liner system, which incorporates an impermeable PVC membrane for use in the rehabilitation of sanitary sewer manholes.
Applications:
Altliner is exceptionally capable in high ground water, leaking structures, or those, which are structurally deficient. Altliners are custom designed for each specific structure and intended service. As such, a variety of strengths (thicknesses) can be utilized to fulfill any design requirement. This product is warrantied for 20 years by the manufacturer and by Sancon.
Standards: Whitebook 500-2.11, Graybook 500-2.11