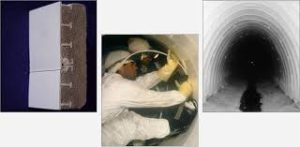 Product Description:
Danby large diameter pipe renovation system is a layered composite of a ribbed profile PVC Liner, high strength cementicous grout, and the original pipe. The system uses a ribbed profile strip of semi-rigid PVC which locks together forming a gas and watertight pipe form inside the host pipe. The space between the PVC liner and the deteriorated host pipe is then grouted solid with a high strength and fluid grout. The result of this process is minimal loss of diameter, improved hydraulic capacity, an effective barrier to hydrogen sulfide corrosion, and greater flexibility in structural repair.
Application:
36 to 120 inches non-pressure sewer and storm drain pipelines including non-circular shapes. The lining system can also accommodate angle points and changes pipe size.
Standards: Conforms to "Greenbook" Section 500-1.5 & ASTM F-1698 and F-1735 ASTM F1784