T-LOCK IN STOCK – AVAILABLE NOW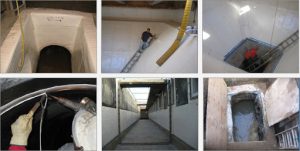 Product Description:
Arrow lock is designed to install new PVC lining in existing structures or pipes and has been used extensively to repair existing PVC T-Lock® liners. After surfaces are cleaned and smoothed with mortar if necessary, high build 100% solids epoxy mastic is applied to the surfaces and followed with specially designed PVC. Seams are then heat welded to form a bonded sheet lining system.
Applications:
Man-entry sized lined or un-lined concrete pipe and concrete sanitary sewer structures including manholes, wet wells, sedimentation tanks, headworks and digesters.
Standards: Conforms to "Greenbook" Section 500-2.5