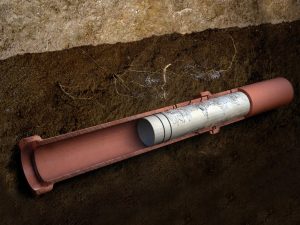 Product Description:
LMK Performance Liner ® is a specific length CIPP short liner repair which is installed remotely inside the main for repairs. The repairs include: offsets, broken pipe, misaligned pipe, missing pipe, leaking joints, broken joints, seal off dead lateral connections, and repairing cracked pipe in lengths up to 50′ long 4″ through 48″.
LMK Lateral Lining ® is a cured-in-place lateral lining system, which is installed through the property clean-out to the Agency or City main.
Applications:
The T-Liners ® is a lateral connection liner system, which incorporates lateral lining and sealing the lateral to the main. The entire system is installed from within the main line while being monitored from the clean-out. This system is frequently used in conjunction with main line rehabilitation. It can be designed for almost any application. The use of a variety of resins and thicknesses allow us to custom design a liner for your specific application.
Standards: Greenbook 500-1.6